Leadership Development & Organisational Coach
Achieving outstanding and lasting results for individuals, teams and businesses.
Let´s Work Together
Development Services
From individual coaching to leadership development programmes, my development services are tailored to meet your business needs.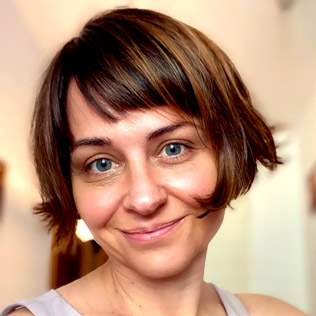 About Me
Born in Papua New Guinea with Italian, Polish parents I moved to Europe when I was 16. When asked why I chose Anthropology as my Honours degree I replied simply, "I am fascinated with humans". And this fascination and deep curiosity of human behaviour and how this plays out in organisations continues today. It has been the driving force behind my 20 year career in Human Resources with a strong focus on all elements of growth and development.
I have deep experience in all elements of organisational development including coaching, leadership development, engagement and communications, cultural transformation, values-based work, team effectiveness, performance management and learning & development. I have worked across a variety of industries from consulting, banking, gaming and technology, marketing, and digital health and in multiple countries across Europe, UK, America and Asia.
Coming from an HR background, I have a unique blend of organisational development and commercial experience, designing and delivering programmes that drive individual and team performance, and in so doing have a positive and lasting impact.
"Isabel truly partnered with me and my business, taking the time to understand our specific opportunities and challenges and delivering people solutions and services that made a lasting impact. As an advisor, a coach and an exceptional people professional I would recommend her to any business."
Jacques Erasmus

Chief Information Officer, Activision Blizzard
"I worked together with Isabel during our time at King. She was, and still is, one of the best HR and change professionals I've worked with. She has a natural coaching and curious mindset, which means she gets to the real core of problems to be solved and comes armed with thought leadership to help leaders and their teams make actionable goals. She's smart, diligent, results driven and above all, fun to work with. I'd have no hesitation in recommending Isabel."
Ross Seychell

Chief People Officer, Personio
"I started working with Isabel on my career options. The work we did together was really important as it highlighted to me what was blocking me and how to overcome these things. Her approach is very client-centric and solutions focused. The coaching experience with Isabel contributed greatly to my next career choice. Her structured, outcome-focused approach to coaching, coupled with her strong empathy and listening skills make her an excellent coach."
Ariel Taeb

Lead Game Designer
"Isabel was instrumental in finding me new employment at one of the best Schools in Thailand. She efficiently and professionally helped me make all the adjustments needed for my applications. Isabel was approachable, supportive and informed through the whole process and I feel that my career has been enhanced because of this. I thoroughly recommend Isabel to any professional ready to take the next step in their career."
Daniel Beaman

Teacher
"Isabel recently supported me to overcome challenging times at work and in my personal life. Throughout the whole coaching time I felt listened to. She offered eye-opening insights and perspectives while being empathetic, adapting her methods to my needs. Whether you are after decluttering your brain, planning your next career move, or willing to improve interpersonal skills, she is definitely a practitioner you can trust."
Pierre G.

Sony Interactive Entertainment
"Isabel has been helping build cohesion and alignment within the Leadership Team at AREX Markets, she is one of those rare people who is able to immediately create a safe and comfortable environment. Thoughtful, thorough and challenging, her coaching has been instrumental in our ability to gel quickly. Working with her is an absolute pleasure."
Julio Hailu

Head of People and Culture, Arex Markets